Support Sara Feigenholtz for State Senate
It's an Honor to Serve
The 6th Senate District includes the neighborhoods of Lakeview, Lincoln Park, Old Town, Roscoe Village, and Ravenswood.  The east end of the district hugs a beautiful stretch of Lake Michigan and Lake Shore Drive. The west end runs along the Chicago River with 58 acres of restored parkland.
These Chicago neighborhoods have a rich history that began as a working-class industrial corridor bordered at the river where commerce and manufacturing flourished. It is now one of the most desirable places to live because of its neighborhood feel, excellent public schools, sprawling parks, and independent businesses.
Simply said, there is no place I would rather be.
As the State Senator, I fight for our families, for quality education for kids in our schools, safe and welcoming neighborhoods, access to healthcare, and keeping a watchful eye on our community's elders to assure their quality of life. 
Representation is about listening to people, working to meet their needs, and delivering on promises. After we adjourn each legislative session, my office and I go on a listening tour of the 6th District. For me, this is the essence of this work. I want nothing more than for our communities to thrive. 
I am excited to continue to earn your trust and support to solve issues that remain unresolved for future generations of Illinoisans. I look forward to seeing you around the neighborhood in our lovely corner of the city and hearing how I can continue advocating for you.
Please know that I will always fight for you and make sure your voices are heard in the halls of our state Capitol.
Warmest regards,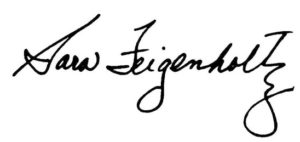 Sara Feigenholtz, State Senator 6th District
Environment
Climate change is undeniably and rapidly affecting our lives on a local and global scale. With the Trump administration's blatant attempt to sabotage the progress our country has made, the Illinois General Assembly must step up and shape the future of renewable energy for Illinois.
Community Safety
Gun violence is plaguing our country. Passing responsible gun legislation is of paramount importance in an age when school shootings, church and synagogue massacres are becoming more and more common. Everyone deserves to live in a safe community. I support keeping illegal guns off our streets and out of the hands of individuals who are in crisis.
Reproductive Rights
As the daughter of a doctor, fighting for health care access has always been a priority. Having sole ownership over decision making on matters regarding bodily autonomy is a fundamental human right. I am proud to have the endorsement of Personal PAC and twice have received the Illinois Planned Parenthood Profile in Courage Award for passage of HB40 and the Contraceptive Equity Act.